Farmland Legacies was created in 1996 under the name of Genesis Land Conservancy.  The name changed in the spring of 2012 to better reflect what we do and who we are.  As the land base steadily grew along with community support, the food bank program began in the fall of 2014.  Growth and evolution continue to this day for Farmland Legacies as it explores new programs and new opportunities.  It is also encouraging to witness over the years how consumers' interest in where their food comes from is also growing.  Nature must be respected and there needs to be a balance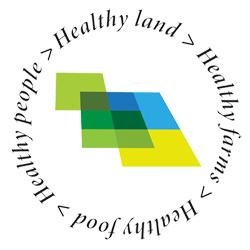 between environmental, social and economic well-being.  Regenerative agriculture has the potential to bring society closer to a just and sustainable food system.  This logo sums it up nicely and is embedded in the thinking that governs Farmland Legacies.. 
For more information check out these links  Mission, Vision & Philosophy and People Involved and remember you vote with every dollar you spend!   Spend consciously and donate to charities dedicated to systemic change!